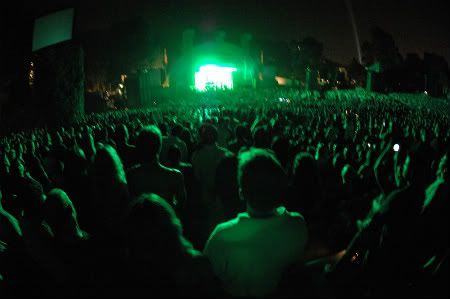 cindy and i got the privilege of seeing
radiohead
at the hollywood bowl on monday. next to
bjork
in '03, this was one of the best concerts i've seen at the bowl EH-VER! peep the guy next to me gettin' hella emo!
there is a definite difference between seeing someone simply perform verses experiencing a full-blown concert at the bowl. besides TWO encore performances (yes, those fuckers came out twice!) the video and
lighting design
was the shit! highlights for me were "talk show host", "
no surprises
" and "
all i need
". quick, watch these clips before they get taken off youtube: no surprises: talk show host: tell me why (
neil young cover
): i'm so glad i "fell off the wagon" for this concert! -tadillac